The 2019 Academy Awards will take place February 24 and with it comes the thrill ride of politics, campaigning, and controversies wherever you look. From box-office blitzes such as Black Panther, all the way to the arthouse gem The Favourite, this year's nominations have sparked a lot of conversations among cinephiles, both positive and negative.
There was also the fiasco of Kevin Hart dropping out of hosting the award show on December 7 due to previous tweets of his. The Academy has officially stated that the show will not have a host, using a rotating wheel of popular actors to pace the show instead. But in addition to these aforementioned events, here's a look at five other notable talking points worth thinking about before Oscars night.
1. A Star is Born's Oscar campaign collapse
Before the home-stretch award race got going, it seemed a near lock that the Bradley Cooper-directed A Star is Born, the third remake of the original 1937 film, would lay waste to every other film on the big night. The film released on October 5th, 2018 to universal praise in both the critical and commercial sense. ASIB earned a $420 million box-office gross, 90% Rotten Tomatoes score and seven Oscar nominations. Yet, why does it seem like as we wind down to late February, it feels like such a disappointment?
Cooper is well-known for being reserved in press interviews, which could be a reason for the halt of his directorial debut's award race. ASIB received nominations in the following, with the most likely wins being in bold:
Best Picture
Performance by an actor in a leading role: Bradley Cooper
Performance by an actress in a leading role: Lady Gaga
Performance by an actor in a supporting role: Sam Elliot
Best Original Song: "Shallow"
Achievement in cinematography: Matthew Libatique
Achievement in sound mixing: Tom Ozanich, Dean Zupancic, Jason Ruder, and Steve Morrow
2. "How do you do, fellow kids?"
The Academy recently announced a move to cut the achievement in cinematography award from the Oscars broadcast. However, after much backlash, the decision was reversed. This speaks to a larger issue regarding what the Academy wants from their TV viewership. Roughly 26.5 million viewers tuned into the 2018 broadcast, down 20% from the previous year.
While this may sound alarming, TV ratings have been on a downturn for every live event, except certain sports, since the revolution of streaming applications. If the Academy/ABC want improved ratings among viewers that lean younger, it should be more accessible without needing a cable log-in. Instead, it seems they have instead tried to gain viewers by, in my opinion, nominating lesser- more fan popular films- for the bigger awards.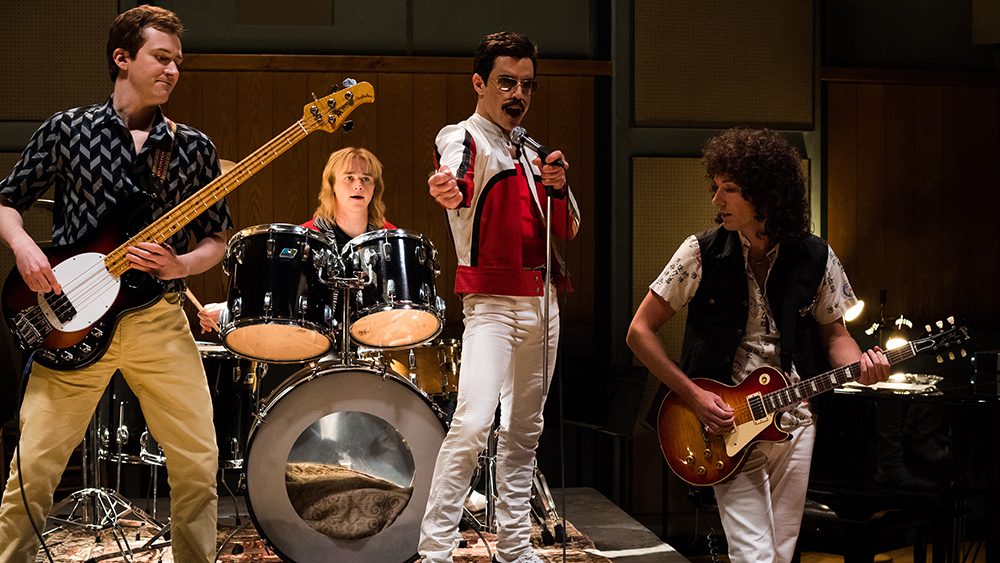 3. Bohemian Rhapsody
What an experience this was. The film has been nominated for five awards, including Best Picture and Best Actor, the latter seeming to be the favorite to win. Bohemian Rhapsody is adored by the mass public, rocking to an $845 million worldwide gross. The critics argued it lacked historical accuracy as well as a proper take on the eccentric lead's personal demons. I personally did not enjoy this movie at all—other than the admittedly awesome Queen music in an IMAX theatre. The film has since gained controversy for its director Bryan Singer due to his multiple allegations of sexual abuse among minors. Singer was fired towards the end of production, after disputes on set with Rami Malek. Singer was still the accredited director, leaving critics annoyed at the film's popularity in award season.
Personal Tangent: I would have much rather preferred to see Sacha Baron Cohen's take on Mercury. He signed on to a project in 2010 but left the movie after creative differences. Cohen wanted a much more R-rated take on the singer's life, mentioning his drug uses and sexual relationships with multiple men. The movie instead decided to make a cleaner, PG-13 crowd pleaser.
4. Roma, and Netflix's Ascension
The odds-on favorite to win the Best Picture award on February 24 being a foreign language Netflix film is a sign of a new change in how we view movies. As the race has progressed, it seems that Netflix is now a company not to be messed with in campaigning for their original films. A black-and-white period film with no known stars, cost just $15 million to make, but the company has spent an estimated $25 million to $30 million on promotion, though many in the campaign business consider that to be low.
The main reason for Netflix's award season growth is hiring many of A24's campaigners. A24's losses to Netflix can be felt through snubs such as First Reformed and Hereditary. Famous filmmakers such as Steven Spielberg have rejected the Netflix model, calling it "TV movies." However, I personally disagree with this notion, view it as the future, and a way to see new types of films.
Watch: Roma HD Offical Trailer
5. Green Book
Many would consider the Green Book the second-most-likely movie to win Best Picture behind Roma, as well as Mahershala Ali as the favorite to win best supporting. In an attempt to be a mass-appeal take on a true story dealing with 1960's racism, the film ended up being extremely controversial for the liberties it took. The family behind Ali's Donald Shirley have stated the film is "full of lies."
Samara Lynn at Black Enterprise wrote a great breakdown of the family's thoughts. While I personally enjoyed the film without knowing the full context, I will admit it cooled on me after research. Director Peter Farrelly has also come under fire for a 1998 Observer interview resurfacing, in which he said he would flash his penis on set as a joke. In addition, Green Book writer Nick Vallelonga has also put the film's award push at risk after controversial tweets of his were discovered. Voting for the Academy Awards is closed, so whether or not these issues harm the film on award night are yet to be seen.
The 2019 Oscars are this Sunday. Check back in later this week for full predictions.