Netflix has reigned supreme in the streaming world for years, licensing dozens of popular shows, films, and dumping a ton of money it its own original content. While other services like Hulu and Amazon continue to make strides of their own and nip at Netflix's heels, the streaming giant has largely sat comfortably atop the heap.
But after the Wall Street Journal reported on Wednesday that NBCUniversal held internal discussions to pull The Office from Netflix after its contract expires in 2021, it's becoming more clear that Netflix may not sit so comfortably much longer.
Back in January, it was revealed that NBCUniversal had plans to launch its own streaming service in 2020. At the time, NBC's statement implied that shows that were licensed to other services like Netflix would not be pulled, and that contract negotiations would happen at the end of 2020. But in a 180 move, that's no longer the case and NBC is calling it quits on licensing The Office out.
NBC's removal of the hit show from Netflix would be a massive blow. Netflix notoriously doesn't reveal viewership numbers, but data analytics firm Jumpshot was able to produce numbers that show The Office is by far its most popular show and likely most prized possession.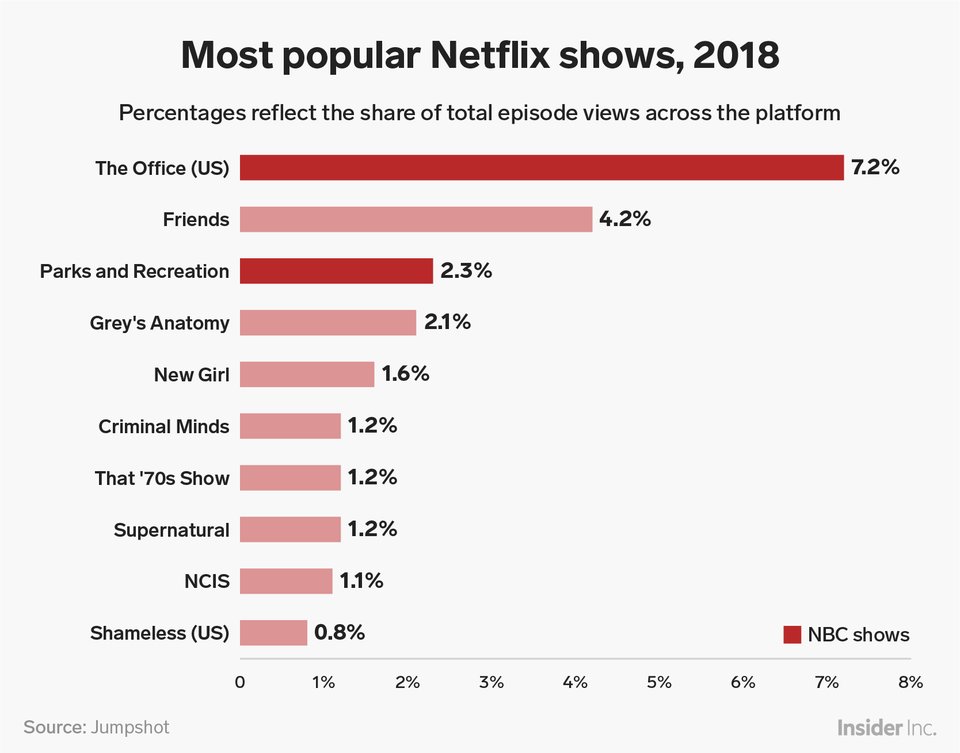 Let's also not forget Parks and Recreation, which according to those Jumpshot numbers is Netflix's third most popular show. Parks and Rec, another NBC show, could be removed as well. It doesn't stop there: The Good Place and The West Wing, two more NBC hits, may also get pulled and sent back to NBC exclusively.
Netflix's second most popular show, megahit Friends, which the streaming service paid reportedly $100 million for, is safe. At least for now.
Friends isn't an NBC show; it's a Warner Bros. show. But WarnerMedia is expected to launch its own steaming service this coming fall and could very well yank the popular sitcom too.
None of this bodes well for the Los Gatos, California-based streaming king. As more and more media giants move forward with plans to launch their own streaming service, they'll be keen on taking back some of their cash-cow shows, further chipping away at Netflix's heavy-hitting lineup.
Even if some of these companies allowed Netflix to retain rights when the time comes to renegotiate, surely they would demand a higher price. Considering Netflix had put reportedly 85% of its spending in 2018 into original content, they may not have the cash to be able to retain even just some of these shows, nor the desire.
To make matters even worse, Disney+ looms large on the horizon, with a planned launch of November 12. In February, we discussed what Disney+ would mean for Netflix and its rights to Marvel properties, and it doesn't seem like anything has changed.
Netflix may retain the rights to some Marvel films through the remainder of 2019, but any Marvel film released in 2019 and seemingly passed that will not be available on Netflix. So, the Marvel party on Netflix is most definitely coming to an end.
With NBC, Disney, and potentially Warner Bros. pulling all of their megahits from Netflix one by one, who knows what Netflix will look like after it's all over with. But without the properties that make the streaming service the first choice among many consumers, Netflix's time as the reigning champ may soon be over.