When tasked with writing 2018's year-end review I had a lot of ideas about what to include, how to include them, and ultimately how much life to give certain topics. If anything, I really wanted this piece to be a celebration of the things we've accomplished as a people this year. This time last year we were busy trying our hardest to reclaim our time and the outlook for 2018 was pretty bleak with the exception of a major concert and hit superhero movie to look forward to. I didn't want to end this 2018 dwelling on any pain the year had caused us. But then I realized that the story of Black people has not always been one of magic and wonder. If history has taught us anything about Black people in America it is that we are resilient. So, yes, while Taraji P. Henson led the fight against mental health and the former First Lady taught us how she became just that, nasty rap feuds led to physical altercations and our President continued to spew hate. But one thing we've always managed to do as a people is to take what's bad and create beauty. So, with that being said, I give you 2018 in black culture:
Oprah Inspires per Usual
There's really not much to say about this moment. Oprah could make a drive-thru order at In-N-Out exciting and they only have three things on their menu. But here she is using her Cecil B. de Mille Award recipient speech to call out abusers and to celebrate the women of the #MeToo movement.
We Won All the Awards
Sterling K. Brown became the first African American to win a SAG Award for Outstanding Performance by an Actor in a Drama Series for his portrayal of Randall in This Is Us which makes total sense because Randall almost makes me wish I was adopted by a white family and had twins I wasn't actually related to. Almost.
Jordan Peele became the first African American to win an Oscar for Best Screenplay because Get Out was probably the most potentially realistic thriller of all time.
#Oscars: Jordan Peele Becomes First African-American Winner for Best Original Screenplay https://t.co/QDhnyUGlRZ pic.twitter.com/pTtjtQyxnM

— TheWrap (@TheWrap) March 5, 2018
Regina King won an Emmy for Outstanding Lead Actress in a limited series or movie and was the first of many black actors to win their categories that night. John Legend finally joined the EGOT winners' club when he won an Emmy for his work in Jesus Christ Superstar this year.
Kehinde Wiley & Amy Sherald Immortalize the Obamas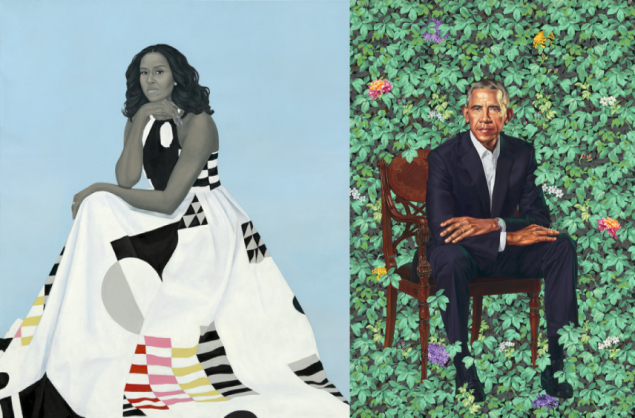 As a people, the black community has found it very hard to say goodbye to President Obama, especially given that his successor is, well, you know who he is. We finally had to let go earlier this year when Kehinde Wiley & Amy Sherald revealed their paintings of the Former President and First Lady for the National Portrait Gallery. They were the first black artists to be commissioned for presidential and first lady portraits.
Tell Me Where Your Love Lies
Khalid and Normani put out the sexiest song of the year and it dominated airways. Penned for the Love, Simon soundtrack, "Love Lies" probably saw more life this year than the movie did. In fact, it was the first single from a movie soundtrack to top the Pop charts since 2016. It does help that Fifth Harmony stand out Normani shows off her dance skills pretty much the entire video, but sensual video or no, the song is a banger and made the perfect soundtrack to whatever plans you and your boo thang may have had for Valentine's Day.
A Panther, A Wrinkle, and a Spiderman walk Into a Bar…and They All Make Money
Black Excellence soared to new heights this February when Black Panther, the first mainstream Black superhero, got the big-screen treatment and his own entry into the Marvel Universe. The movie surpassed The Avengers as the highest-grossing Superhero movie of all time. Premieres had kids and adults alike throwing parties, dressing up as characters, and buying out entire theaters for school-aged children. The film's more than billion dollar box office payout further proved that black-led movies can be profitable and joined the long list of examples as to why a diverse representation of minority cultures in film is important.
That trend of representation continued when director extraordinaire Ava DuVernay's (Selma, 13th) imagining of Madeleine L'Engle's "A Wrinkle In Time" was released. Both cast and crew were diverse and female-led, and while the film didn't win over all critics, the production was often raved about.
Ending the year, Miles Morales, the Afro-Latino incarnation of Spider-Man swung from comic to screen when Marvel released "Spider-Man: Into the Spider-Verse" which debuted at #1 and had the largest three-day animated opening of all-time in the month of December, cementing Miles' place in the modern superhero zeitgeist.
Queen Bey Returned to the Stage
What do you get when you combine the most prominent black entertainer on the planet with the whitest gathering of people ever? #Beychella. Despite our happiness for her and her family, a lot of us were a little let down when Beyoncé announced last year that she had to bow out of her Coachella performance due to her pregnancy with whom we now know to be Rumi and Sir. But the wait was well worth it because no one was ready for what two years of planning had in store for us.
While most of white America was extremely confused, black people across the country were in their living rooms, cubicles, and cars swag surfing, stepping, and roll-calling in formation with Bey and her HBCU-inspired band and dancers. As if that wasn't enough DESTINY'S CHILD reunited for a quick set and the trio has never looked better together.
No one wants to admit it so @LisaFranceCNN did – Coachella will never be the same after Beyoncé @CNN https://t.co/8mgRcXApRD cc: @Beyonce #Beychella

— Audrey Irvine (@audreycnn) January 4, 2019
The performance had cameos from Jay-Z and Solange and featured arrangements that incorporated the Black National Anthem, C-Murder, chopped and screwed, and more of the blackest music references you could think of. You could practically hear your uncle Willie frying up some fish on the back porch while your aunties were cleaning some greens in the kitchen. That's how unapologetically black it was. The performance broke viewership records and Beyoncé became the first black woman to headline in the festival's 19-year history. Aint that about a bitch? Her words, not mine.
Kdot Makes History
So while he's not making hit soundtracks for blockbuster movies, Kendrick Lamar does normal stuff in his free time. He does Variety cover stories. He hosts NBA all-star weekend events for Nike. Oh, and he gets awarded Pulitzer Prizes for Music. No big deal, except for the fact that he's the first rapper ever to do so.
Kanye 'Kanye'd' So Hard
It might be a stretch to say that Kanye's downfall started this year. Some people may have started to recognize his assimilation (emphasis on ass) into the Kardashian klan's gene pool of ignorance when he made that God-awful "Bound 2" video but given the musical genius he is, some remained hopeful he'd get back to the days when he was leaving the Stacey Dashes of the world at airports. 2018 was the year those people strapped their hopes to a rocket and lit the fuse.
Back in May, Kanye lulled us into a false sense of security when he opened up to Charlamagne Tha God in an honest interview about family, the industry, and mental health but less than a week later his Uncle Tom-foolery meter was turned all the way to eleven when he decided to declare that slaves made the choice to stay imprisoned for four hundred years because they were also mentally enslaved. At first glance, Kanye's remarks are just extremely out of touch but if you take a closer look (and maybe passed 10th-grade history) you find the true ignorance in Kanye's sentiment. I don't know what the Chicago public school system is like but, and this is legitimately probable, obviously no one ever taught Kanye about a process called 'nigger-breaking', which was the tedious and sadistic torture owners did to their new slaves to keep them in line and discourage uprising. Just like no one ever told him it would look extremely stupid of him to openly support a president that has, on multiple occasions, told people in media, entertainment, and sports to know their place, stay in their lanes, and stop commenting on politics.
He capped that support off by meeting with the president in October to speak with him about prison reform but mostly ended up talking about the only thing they both love talking about—themselves. Then there was that whole rant he did on SNL where he accused the cast of trying to get him not to wear his I'm a coo—I mean, MAGA hat. A few short weeks later he tweeted about how he was retiring from politics because he felt like he'd been used to spread a message he didn't believe in and the internet collectively rolled its eyes and has been ignoring him ever since. Oh, and sometime during the year, he released music I think.
911-gate
In the battle against police violence, 2018 became the year we started to hold white people accountable for the roles they've played in the injustices against black and brown people at the hands of police, specifically by calling them out for dialing 911 when they were mildly inconvenienced or annoyed at the presence of people of color in their neighborhoods. The trend hit peak meme status when Black Twitter started naming offenders and making them go viral. For example, BBQ Betty was caught on tape calling the police on two black men grilling at a park in Oakland, California. Permit Patty called the cops on an 8-year-old girl for selling water in front of her apartment building. Golf Cart Gail, Corner Store Caroline, and Parking Lot Patty are just a few of the other quirky names given to white women who've called the cops on black men, women, and children for doing their jobs, having fun and basically just minding their own business.
Obviously, some of these incidents have ended quite embarrassingly for these 911 callers, with some even losing or resigning from their jobs. But, despite the nicknames, these videos of white men and women questioning the right of total strangers of color to be in their pools or in their apartment building seem to pop up more and more. Some people have gone as far as demanding ID, apartment numbers, or key fobs as proof of residence and when the black people they're harassing fail to comply with their ignorance, white people become so emboldened that they take the time out of their day to call the authorities. Often times conflating issues and criminalizing innocent black people—sometimes to the detriment of those individuals. Unfortunately, 2018 has taught us that even our own homes sometimes aren't safe because all it can take is a phone call and a badge to ruin your day, credibility, and sometimes end your life.
Check back in tomorrow for the second half of this look back at Black Culture in 2018.